Hidden Faces of Courage & A Lot on our Minds
in collaboration with Fort Point Theatre Channel
In 2013, On With Living and Learning (OWLL) premiered Hidden Faces of Courage, with full houses every night for this workshop production.
Now OWLL in collaboration with Fort Point Theatre Channel presents a remixed and reimagined Hidden Faces of Courage, preceded by a staged reading of A Lot On Our Minds, reflections from youth about their experiences with incarceration and police interaction.
Both plays combine monologues, spirituals, and rap to portray the struggles of a group of mothers reentering their communities from prison and the effects on the youth living in the shadow of their incarceration. The scripts were conceived by OWLL founder Mary Driscoll and are a creative collaboration with members of OWLL.
Estimated running time: 80 minutes. For ages 14 and up.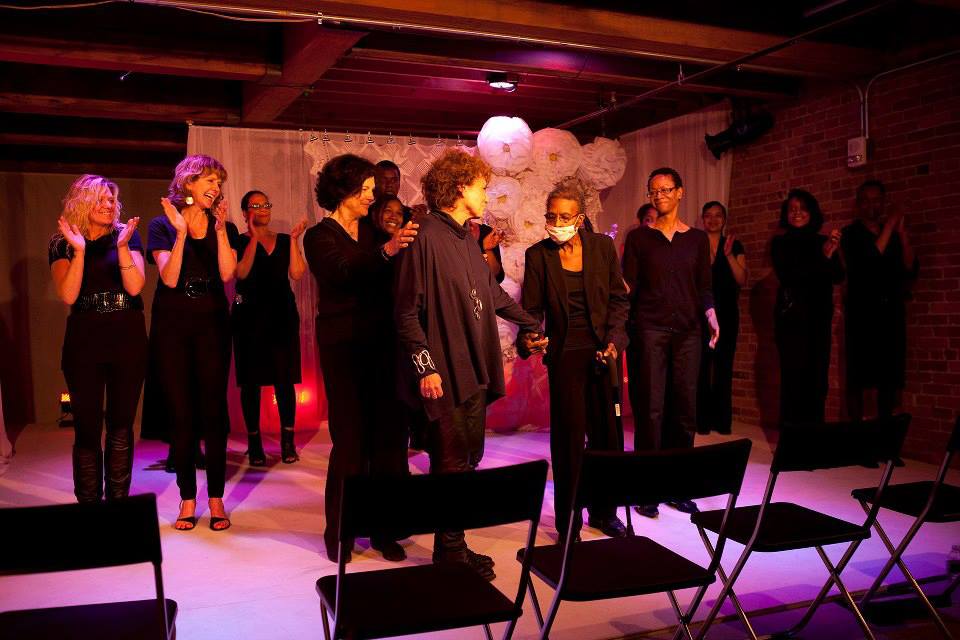 Cast, Hidden Faces of Courage
Directed by Tasia A. Jones
Music by Allyssa Jones
Liana Asim
Shalaye Camillo
Theresa Chiasson
Alissa Cordeiro
Chris Everett
Johnnie McQuarley
Ela Quezada
Cast, A Lot on Our Minds
Directed by Tasia A. Jones
Choreography by Ingrid Osland
Donald Culpepper
Dexter Miller
William Miller
The Staff
Tasia A. Jones, Director
Allyssa Jones, Composer/Sound Designer
Ian W. King, Lighting Designer
Anne Loyer, Set Designer
Forrest Walter, Costume/Prop Designer
Ingrid Osland, Choreographer, A Lot on Our Minds
Molly Burman, Stage Manager
Dana Atterbury, Carpenter
Daniel J. van Ackere, Photographer
Allyssa Jones & Marc S. Miller, Marketing 
Nick Thorkelson, Graphic Design
Reviews
"This has to be the most inspiring play I have seen since For Colored Girls.The focus on women and the pipeline to prison is an unspoken story that these actresses bring to life. The play is based on real prison stories from Boston. I was left speechless...you have done the impossible and set these women free.There wasn't a dry eye in the house. A MUST SEE!" - Ashley Rose Solomon, Audience Member
"OWLL gives me a sense of belonging and empowerment, helping and teaching others that it is possible to live a productive life." - Donna, OWLL Member